24.11.2015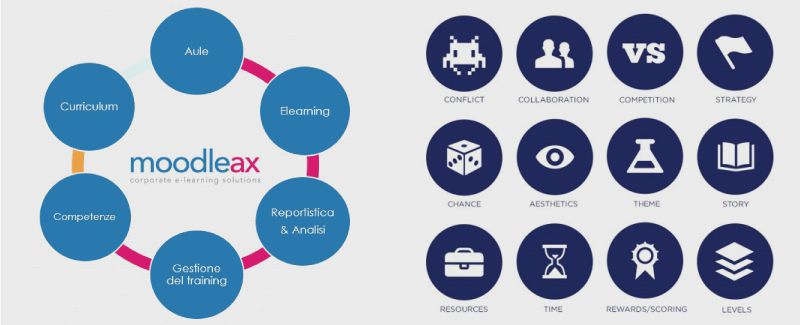 What are the new features of MoodleAX and of the modules designed by Amicucci Formazione to integrate training, skills, blended learning and gamification? Can a flexible and integrated e-learning platform support staff in the skills development process? Having a well-structured e-learning system is more and more becoming a strategic vehicle to facilitate the management, participation, engagement and monitoring of training delivered. To accomplish the transition from e-learning to an integrated A...
+ Read more
24.10.2015

Why capitalise on an organisation's training assets? To answer this, first of all we need to reflect upon these questions: how much budget has been invested in training projects, the end results of which were soon filed away and forgotten? How many training resources already existing within the organisation could be used as self-learning courses? A knowledge management environment within the organisation can guarantee: more efficient archiving of teaching materials, providing a repositor...
+ Read more
03.09.2015

Amicucci Formazione will be present with the Skilla method at EM&M Italia 2015, the Italian Multiconference on E-learning, Media Education&MoodleMoot that will take place in Genoa from 9 to 11 September. This year Amicucci Formazione takes part in the event presenting its paper focussed on the topic of "Moodle for voluntary training at the EXPO MILANO 2015 major International event". Moodle has been considered the most suitable technological platform for dealing with a series of chal...
+ Read more
22.07.2015

When we speak of "mobile learning" we are referring to the distance learning environment involving the use of mobile devices such as tablets and smartphones for the distribution of content and activities. How to design content for mobile learning? In producing content for mobile learning the principles of usability of these tools cannot be neglected: small screens, touch interaction, the need for earphones to enjoy content inevitably involves a specific design. Today the type ...
+ Read more